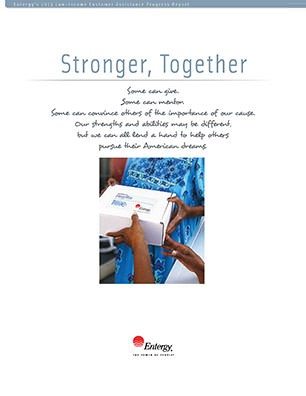 2.6
Million customers reached.
12
Years of award winning creative.
1
Voice for low-income advocacy.
500k
In matching funds for over 10 years.
In 1999, a handful of enlightened executives at Entergy Corporation realized the need to stop lamenting the poverty of its regulated service area and do something about it. Led by then-CEO Wayne Leonard, the electric utility began an all-fronts campaign to change the way it approached its needy customers. The Fortune 500 giant turned KC&A to every step of the way.
No more "trailer trash"
Recognizing the value of the customer segment was not enough. Company executives sought to change the way employees spoke about customers in financial need, gain the approval of shareholders and develop ways to engage the rest of its 2.6 million customers in the effort to stop the growth of poverty in four southern states.
A poverty report side-by-side with its profit report
The key tool in the effort is Entergy's annual Low-Income Customer Assistance Progress Report. Produced every year since 2001 by KC&A, it is the "voice" of the company's commitment. Distributed along with its annual report to shareholders, the piece proves the company's commitment to customers in need. In the years since, the CEO of the company has changed; the board of directors has turned over; executives at all levels have come and gone. Over the past dozen years, the company has been heralded nationally and internationally for its anti-poverty initiative. Consistently, through it all is the work of KC&A.